Sentinel™ Spectrum
Prevents heartworm, controls intestinal worms and flea infestations*
*Does not kill adult fleas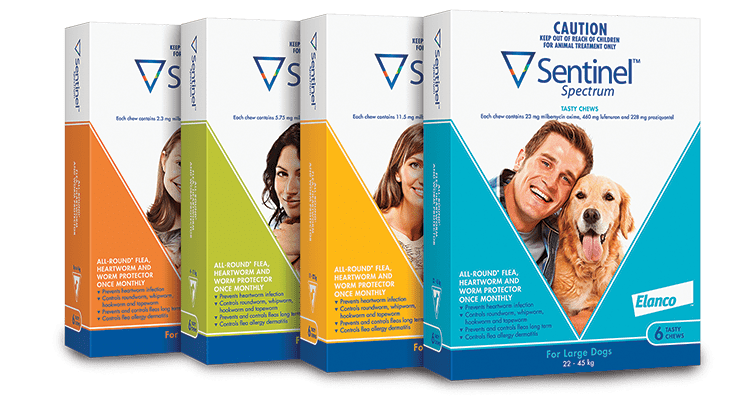 Why choose Sentinel™ Spectrum for your dog?
Key Benefits
A tasty beef and bacon chew that dogs love with 97% of dogs accepting them straight from the hand¹

Protection from heartworm, all major intestinal worms including Hydatid tapeworm and stops the flea lifecycle.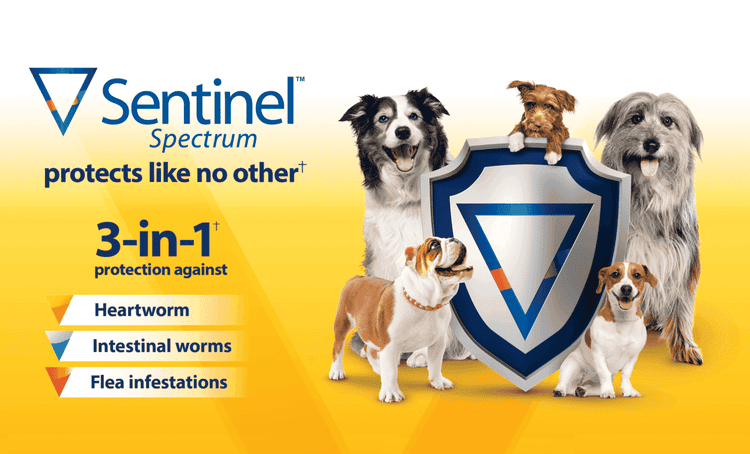 Sentinel™ Spectrum treats your dog and protects your family
Protect your dog against fleas, heartworm and intestinal worms, including tapeworm, with Sentinel 3-in-1 protection. Dogs love the beef and bacon chew, with 97% of dogs accepting them straight from the hand*.
Directions for use
Give monthly with a full meal.
Record the treatment date, and repeat monthly.
| | |
| --- | --- |
| Sentinel spectrum pack for dogs weighing | Dose |
| Up to 4 kg | 1 x Very Small chew |
| > 4 – 11 kg | 1 x Small chew |
| > 11 – 22 kg | 1 x Medium chew |
| > 22 – 45 kg | 1 x Large chew |
Dogs >45 kg can be dosed with the appropriate combination of chews.
READ PRODUCT LEAFLET FOR FULL DIRECTIONS
Before starting Sentinel™ Spectrum, you should have your veterinarian confirm that your dog does not have heartworm
For dogs from 6 weeks of age
The following adverse reactions have been reported in dogs after giving Sentinel™ Spectrum: vomiting, diarrhea, depression/lethargy or pruritus
In safety studies with Sentinel™ Spectrum, in some cases puppies showed reduced activity, ataxia, tremors and salivation. These signs were most commonly seen with overdosing and were mild, observed only within 24 hours of treatment, and resolved without medical intervention.
Contact:
Sentinel™ Spectrum and the diagonal bar or logo are trademarks of Elanco or its affiliates. ABN 64 076 745 198. Level 3, 7 Eden Park Drive, Macquarie Park NSW 2113.
For further information please contact 1800 995 709 Monday to Friday or email productsupportau@elancoah.com.