Credelio™ Plus 4 in 1 protection in the smallest chew
Credelio™ Plus is tough on ticks and kills fleas fast! Walking in the bush or even in the park, dogs could pick up these nasty critters that are not only itchy but can cause diseases too. Keep them protected from fleas, ticks, heartworm and intestinal worms for the full month with the smallest easy to give chew.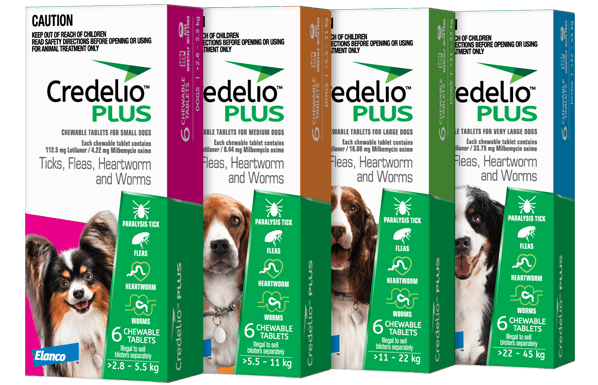 Why choose Credelio™ Plus for your dog?
Keeps your dog protected from ticks and fleas PLUS protects against intestinal worms and heartworm disease

Proven safe for dogs 8 weeks of age or older

Dog happily taking the Credelio Plus chewable tablet
Treats:
Ticks, fleas and worms, Plus prevents heartworm disease
Pet type:
Safe for dogs and puppies from 8 weeks of age and greater than 2.8 kg
Application type:
4 in 1 protection in the smallest chew
How to Administer Credelio™ Plus
Credelio™ Plus should be given to your dog during or after their meal, for fussy eaters, it can be mixed with food.

So small & tasty; Credelio™ Plus offers powerful protection in the smallest chew

Repeat monthly for complete protection against fleas, ticks, intestinal worms, and heartworm disease.
Ready to protect your Dog with 4 in 1 protection?
Credelio™ Plus and the diagonal bar or logo are trademarks of Elanco or its affiliates. ABN 64 076 745 198. Level 3, 7 Eden Park Drive, Macquarie Park NSW 2113. For further information contact: 1800 995 709 from anywhere in Australia Monday to Friday or email productsupportau@elancoah.com.