Dogs are great companions but their fur can add even more mess to clean up in your house. These tips will keep your house and garden clean.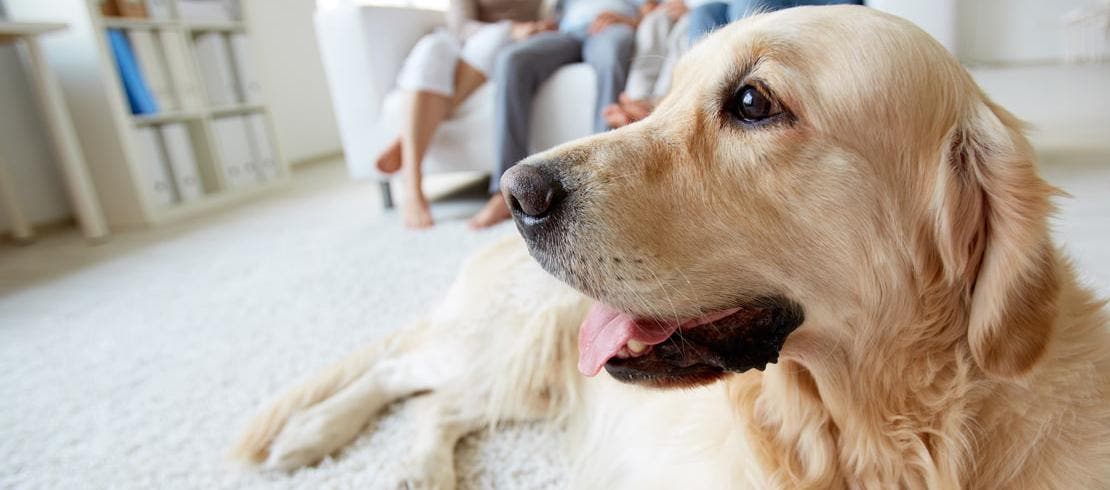 We love our dogs – but not the messes they make! From removing dog hair from furniture and floors to addressing urine stains, pet messes can be tricky to navigate. Six cleaning experts share their tips and tricks to help you enjoy life with your dog while keeping your house spic and span.
Sydney Metro Carpet Cleaning
One of Sydney's leading professional cleaning companies, Sydney Metro Carpet Cleaning, offers a wide range of residential and commercial cleaning services. They specialise in carpets and rugs, upholstery and fabric protection, as well as auto marine cleaning and flood restoration.
When you have a pet it's essential to be thorough about cleaning – this is especially important if you also have children, as it's crucial that your home is a healthy and safe place for them. Pets like cats and dogs shed fur around your home. If you have a younger puppy or kitten who isn't trained, you probably also have dried urine on your carpets and upholstery, which can be unhealthy. To ensure these messes are properly cleaned, it might make sense to hire a professional carpet and upholstery cleaner who can thoroughly remove all traces of dirt and mess.
A vacuum cleaner is essential for removing pet hair from around your home; but for small and hard-to-reach areas, try using a statically charged brush or roller – the fur will stick to the brush or roller instead of sticking to the items in your home.
UrbanYou
UrbanYou is an online marketplace which connects busy people with professional providers of home services, such as cleaning and gardening. All service providers are pre-screened and experienced, and services can be easily and securely booked via the website.
If your dog or cat likes to sit or sleep on the furniture, it's a good idea to protect your upholstery by placing a washable blanket over their favourite spot. This enables you to transform the area at a moment's notice if you have visitors, and it also keeps the hair and dirt off your furniture.
The blanket should be regularly washed on a wool cycle with half a cup of white vinegar to help relax the fibres and loosen any extra hair. Allow the blanket to dry naturally in the sun, then put it in the dryer for ten minutes on a non-heat cycle – any lasting fluff will be drawn out into the lint catcher.
Microfibre cloths are also a great way of keeping your pet's special nooks clean. Gently spray the area with water and wipe clean with a dry cloth – take care not to use a damp cloth, as this will leave streaks.
Resparkle Pty Ltd
Resparkle is a range of organic home and body care products made in Australia from 100 percent natural ingredients. The products are formulated to be highly effective while also being gentle on the skin.
Just like children, our pets are relying on us to keep them safe. They are as vulnerable to the toxic effects of household chemicals as we are. Due to their smaller bodies, faster breathing and being closer to the ground, pets tend to absorb toxins more easily. Many of the chemicals found in regular household cleaning products could result in your pet having some health problems.
Switching to organic cleaning products can solve this problem – they're made with completely natural ingredients so they're safe and harmless for pets and humans while also being every bit as effective at cleaning your home as other cleaning products.
Resparkle recommends two of their own organic cleaning products, which are particularly popular with pet owners – the Organic Floor Cleaner and the Laundry Powder. These natural products remove odours and bacteria while leaving your home clean, healthy and smelling fresh.
urineFREE
UrineFREE is an Australian-based company offering advice and product solutions relating to fabric protection and the removal of urine odours and stains, both for inside and outside of the home.
Regular cleaning products are often ineffective at removing urine stains and smells. Urine contains non-soluble uric acid crystals, which embed themselves into any surface and are resistant to many general cleaning products. This is why pet urine tends to stain and the smell can linger – even if you clean the area repeatedly, sometimes you can end up damaging the area you're trying to treat. Using a specialist bio-enzymatic formulated cleaner breaks down the uric acid crystals while eliminating the stain and the odour in the process.
Start Bio-Solutions specialises in a variety of products designed for removing pet urine odours and stains. They recommend their urineFREE Urine Detector, which enables you to see exactly which areas you need to treat. Also, their bio-enzymatic cleaner All-In-One Odour and Stain Remover is gentle on surfaces and safe for both humans and animals, while removing urine smells and stains.
AustClean Group
Established in 2009, the AustClean Group is a franchise of over 40 experienced businesses providing a wide variety of interior and exterior cleaning services to residential and commercial clients.
If your pets roam free around your home, it's vital that you make an extra effort with cleaning to keep the environment safe and healthy for both you and them. While you may be able to see plenty of cat or dog hair around your home, there can be much more lying undetected in the fibres of your carpets.
Using the right kind of vacuum cleaner can make all the difference – different vacuum heads are also suitable for different types of flooring and upholstery. By choosing the right vacuum and vacuum head, you'll be able to keep your home as clean as possible.
The best choices are either a turbo (rotating) head vacuum or an upright vacuum, which has a brush and vac motor. This should be sufficient to remove most loose pet hair from your carpets and, using the right vacuum head, upholstery. Your carpets should also be thoroughly cleaned once every 12 months with a hot water carpet extraction machine, to keep them healthy, clean and in good condition.
iClean Facility Services
iClean Facility Services is a dedicated commercial cleaning company, servicing Sydney, Brisbane, Melbourne and the surrounding areas. This family-owned business specialises in cleaning veterinary surgeries and medical practices.
Owning a pet can be hard work, especially if you're busy. Regular vacuuming is essential, but it can be tiring when continually vacuuming the same spots over and over again, especially if the pet hairs have become embedded in your carpets.
However there is another way, which can be used as a complementary method between vacuuming. Attach a squeegee to the handle of an old mop or broom, making sure the rubber strip on the squeegee is nice and firm. If you then run the squeegee along the carpet in a sweeping motion, as if you're brushing the floor, the pet hairs will gather into a ball, which you can then pick up and put in the bin. This will make vacuuming so much easier and much more effective.
Most of us will have an old broom handle somewhere at home – if not, you'll be able to pick one up cheaply at your local hardware store at the same time as purchasing your squeegee. This inexpensive kit can make cleaning up after your pet a lot easier!
Following these handy tips and tricks from all our experts can take the stress and hard work out of keeping your home clean and fluff free, leaving you to enjoy quality time with your pet in a clean and fresh-smelling environment.