Comfortis™ PLUS
Comfortis™ PLUS provides 3-in-1 parasite protection for your dog, with protection against heartworm, intestinal nematode worms and starts killing fleas within just 30 minutes. Comfortis™ Plus provides fast-acting flea protection for the entire month and is suitable for dogs with flea allergy dermatitis.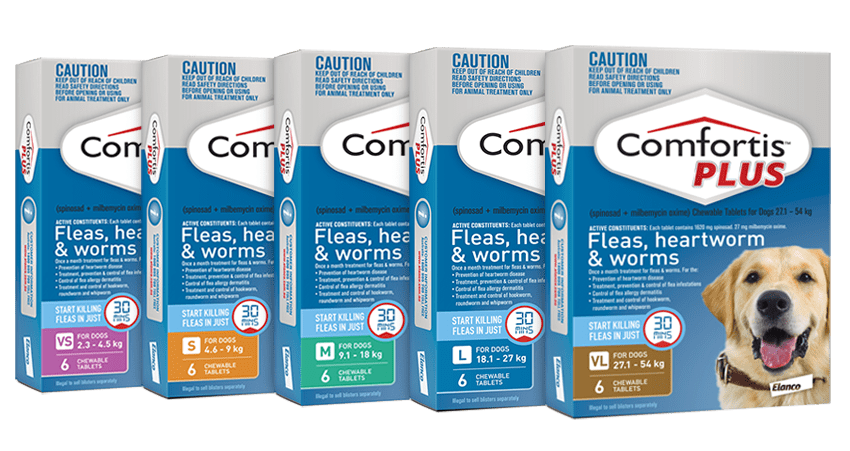 Why choose Comfortis™ Plus for your dog?
Key Benefits
Starts killing fleas in just 30 minutes and prevents re-infestation.

A tasty beef flavoured chewable tablet that is easy to administer in dogs

Protection from heartworm, hookworm, roundworms, and whipworm.
Comfortis PLUS should be administered monthly with food for maximum effectiveness.

*Dogs over 54 kg should be dosed with the appropriate combination of tablets.
READ PRODUCT LEAFLET FOR FULL DIRECTIONS
For use in dogs from 8 weeks of age and 2.3 kg
Seek veterinary advice regarding the use of Comfortis™ PLUS in pregnant and lactating females, breeding males, and in dogs with pre-existing epilepsy
Concurrent use of Comfortis™ PLUS with high off-label doses of ivermectin is not recommended
Before starting Comfortis™ PLUS, you should have your veterinarian confirm that your dog does not have heartworm
The following adverse events have been recorded following administration of spinosad and milbemycin together: vomiting, pruritus, lethargy and diarrhoea
In some animals, Comfortis™ PLUS may be associated with vomiting. If vomiting occurs within an hour of administration, re-dose with another full dose.
Contact:
Comfortis™ Plus and the diagonal bar or logo are trademarks of Elanco or its affiliates. ABN 64 076 745 198. Level 3, 7 Eden Park Drive, Macquarie Park NSW 2113.
For further information please contact 1800 995 709 Monday to Friday or email productsupportau@elancoah.com.