Credelio™ small, monthly chew with flea, tick and mite protection for dogs.
Credelio is a small, tasty chewable tablet that provides month long protection against fleas, ticks and demodex mites in dogs. With Credelio's parasite protection, you and your canine companion can have the confidence to live your best life together!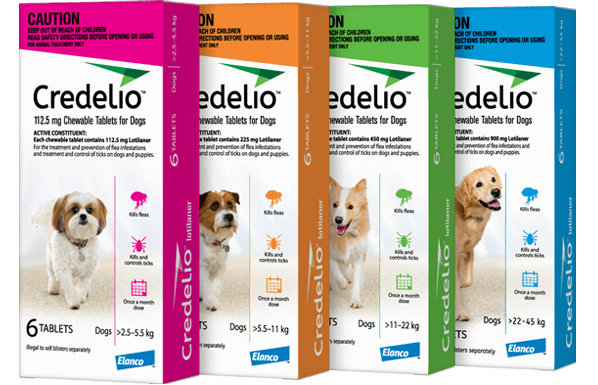 Why choose Credelio™ for your dog?
Starts killing biting fleas within 2 hours, helping control flea allergy dermatitis

Kills deadly paralysis, brown dog and bush ticks

Small, tasty chewable tablet – simple monthly dosing
Treats:
Fleas, ticks, demodex mites
Pet type:
Safe for dogs and puppies from 8 weeks of age and weighing 2.5 kg and above.
Application type:
Small meat flavoured chewable tablet
Dosage:
Treat your dog on or about the same day of each month.
How to Administer Credelio™
Credelio should be given to your dog during or after their meal, or for fussy eaters it can be hidden in a small amount of food, or dosed directly into their mouth like a tablet.

So small & tasty; Credelio offers powerful protection in a small tasty chew.

Repeat monthly for complete protection against fleas, ticks and demodex mites.
Ready to protect your Dog against deadly parasites?
Credelio™ and the diagonal bar or logo are trademarks of Elanco or its affiliates. ABN 64 076 745 198. Level 3, 7 Eden Park Drive, Macquarie Park NSW 2113. For further information contact: 1800 995 709 from anywhere in Australia Monday to Friday or email productsupportau@elancoah.com.