If your pet has fleas, your home has fleas!
Fleas on your pet are just the tip of the iceberg. Only 5% of fleas live on your pet, the other 95% are in your home.
For every adult flea that you see, there are many more eggs, larvae and pupae hidden away in carpets, upholstery and bedding.
Untreated pets are at risk from flea infestations.
Help protect your pet and your home from fleas with AdvantageTM.


Why Advantage flea treatment?
Scientifically proven to prevent & treat flea infestations in cats & dogs

Easy to apply pipette formulation

Kills fleas within 24 hours and prevents further infestations for 4 weeks

Kills fleas through contact, fleas do not have to bite to be killed1


How does Advantage flea treatment work?
Once applied, Advantage spreads quickly across your pet's skin and coat. The product is not absorbed into the bloodstream, meaning that fleas do not have to bite to be killed.
Advantage also kills flea larvae in the home wherever the treated pet goes.
Remember, if you already have a flea infestation, it's essential to treat every pet in the household as well as the home environment to eliminate fleas.
Watch the video below for more information on how the product works and to see how to apply Advantage to your dog or cat.


Advantage Products for Dogs, Cats and Rabbits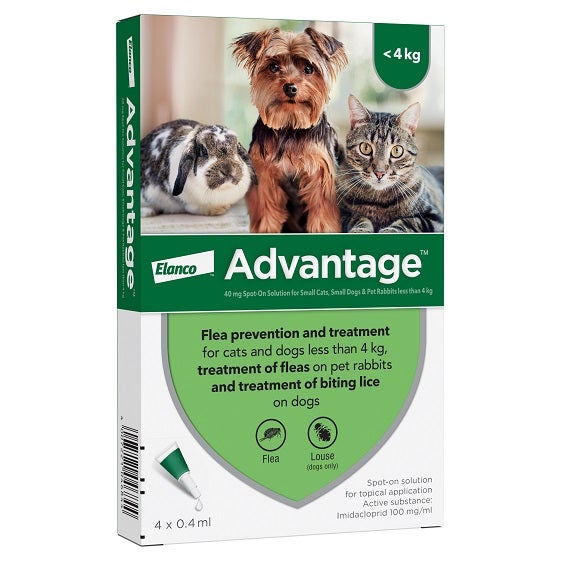 Advantage™ Spot-On Solution, 40 mg
For small cats, small dogs and pet rabbits under 4 kg
Frequently Asked Questions
1 Mehlhorn et al. Parasitol Res (2001) 87:198-207, information is regarding mode of action and is not intended to imply parasites can be completely stopped from biting.