Osteoarthritis in dogs
Dogs have a way of making shared moments more meaningful. But osteoarthritis (OA) pain can affect your dog's mobility and take away from your special moments together.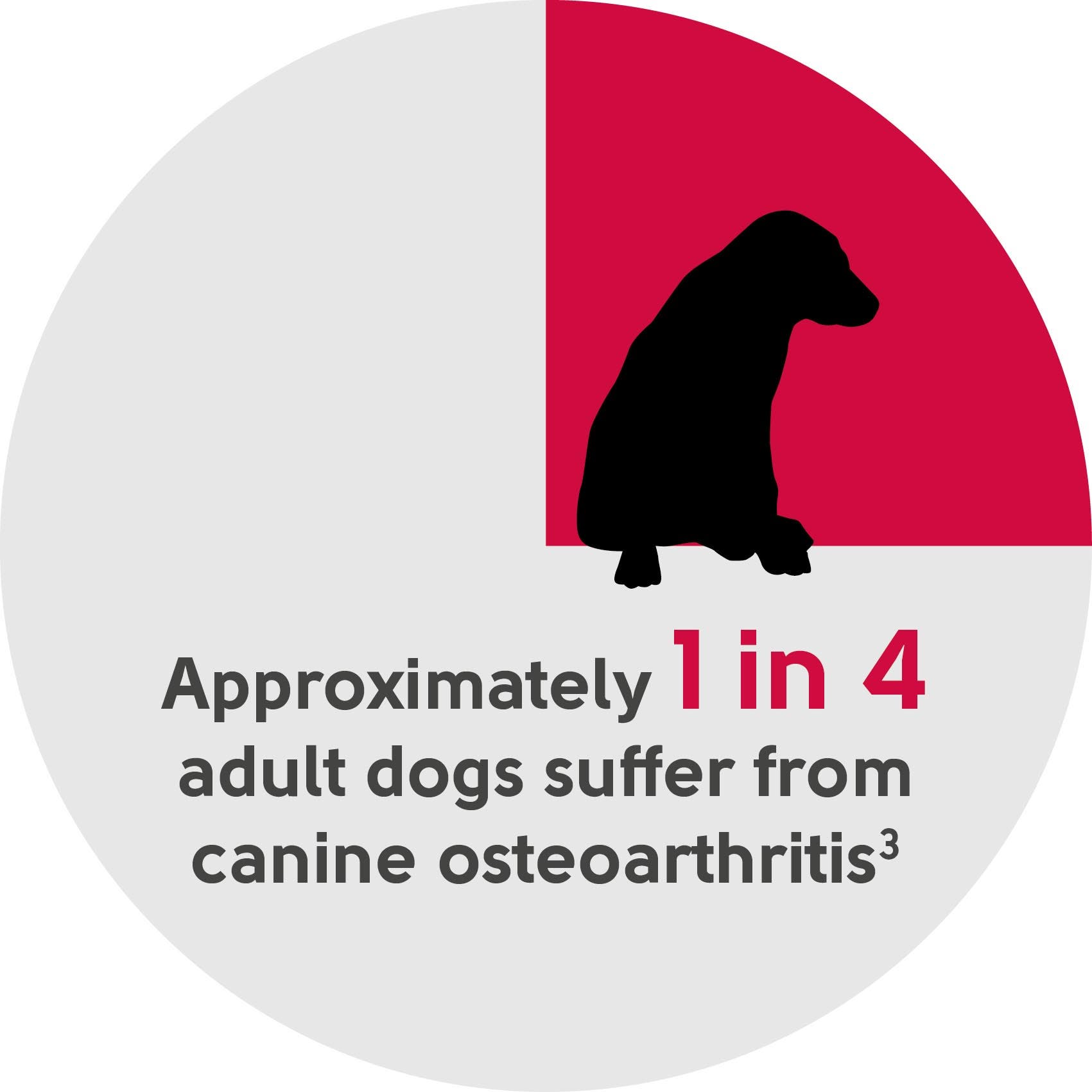 What is canine osteoarthritis?
OA is the most common form of arthritis in dogs and is the leading cause of chronic pain.1 It is a disease of the joints that gets worse over time2 and can result in loss of joint mobility and lameness, making it harder for a dog to do normal everyday activities.


What causes osteoarthritis in dogs?
Canine OA is more common than you might think as it can affect dogs of any age –not just elderly or large breed dogs. In fact, OA often starts at a young age, and can affect dogs of all sizes4.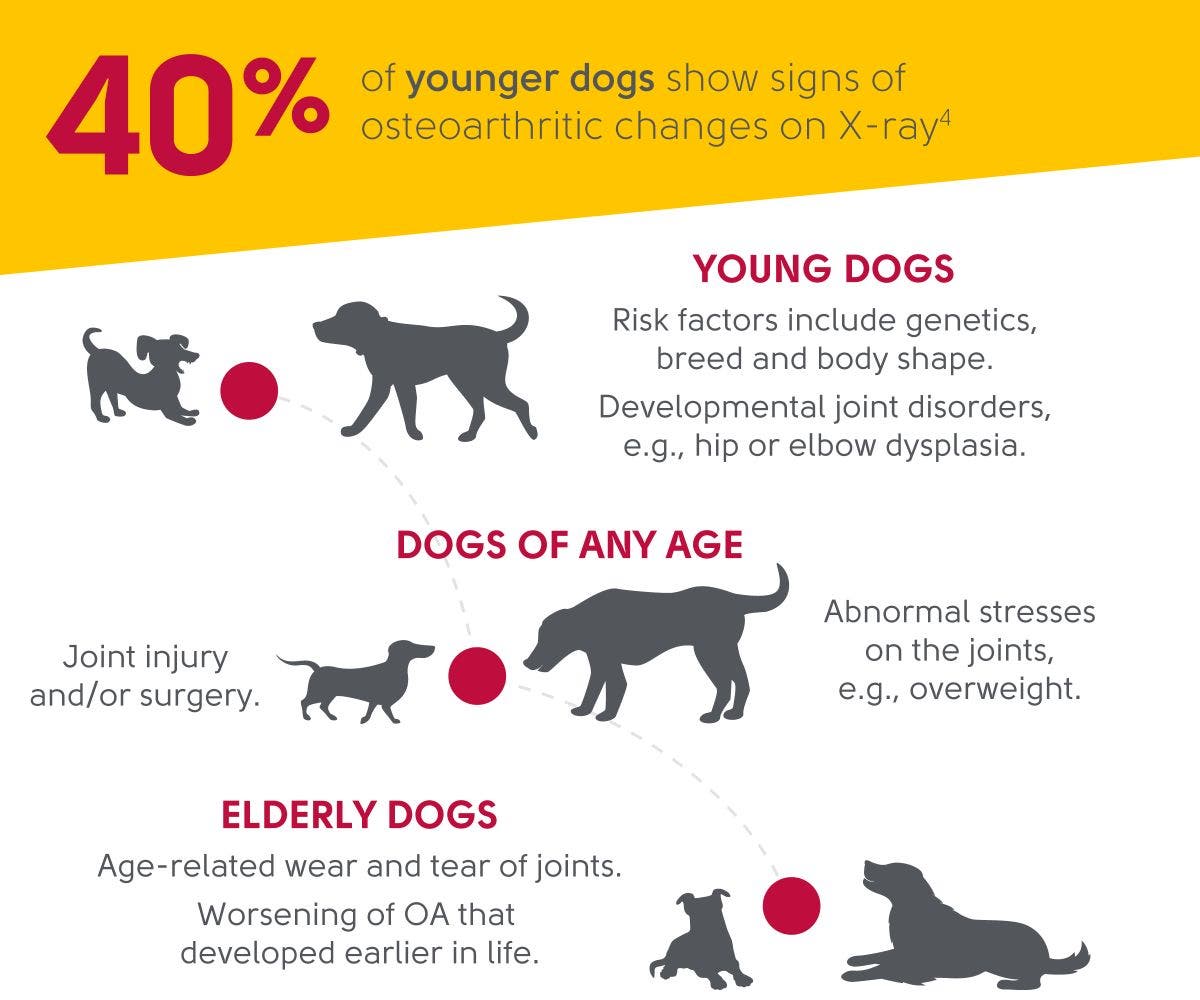 It's important to treat OA pain early to help your dog get back to their normal self.
Pain relief is a fundamental part of your dog's OA management plan3,6
By stopping the pain caused by OA, your dog will be more comfortable and more able to stay active. This helps to reduce their weight which in turn, reduces the stress put on their joint6.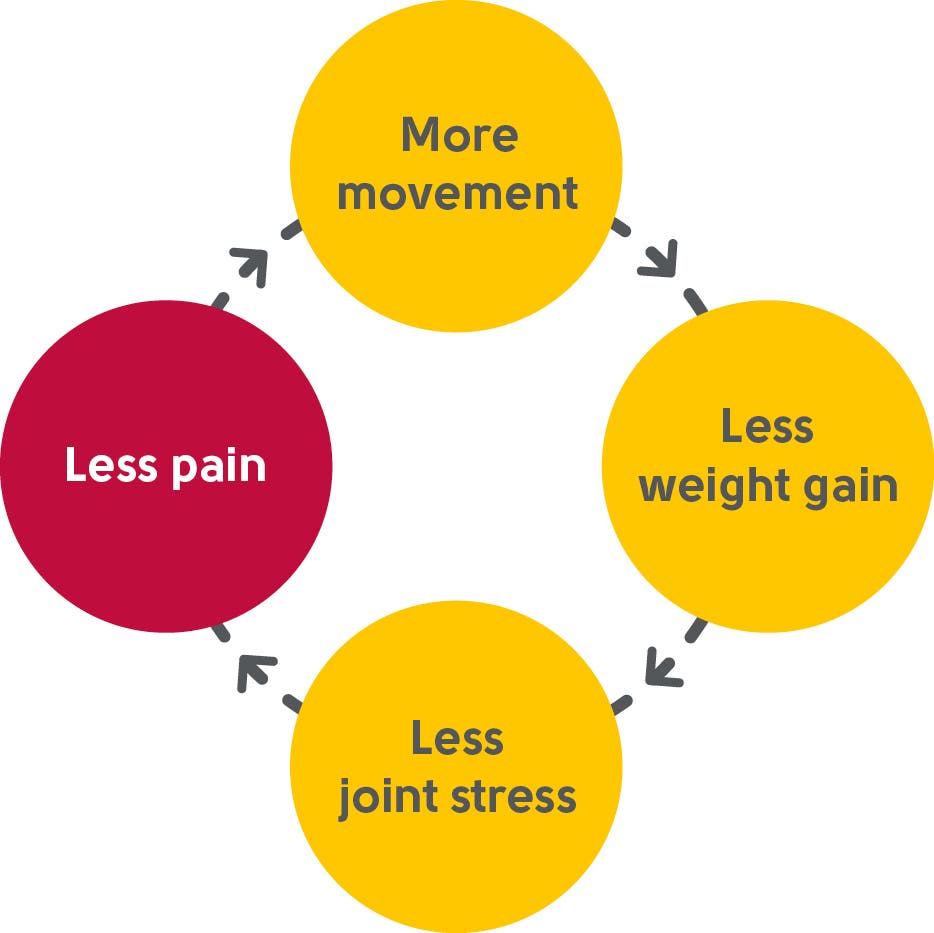 What are the symptoms of osteoarthritis in dogs?
The early signs of OA in dogs are often subtle and easy to miss. No matter how minor the changes may seem, don't ignore them as they could indicate your dog is struggling with OA.
It's important to keep an eye on any changes because by the time the signs become more obvious -such as limping or avoiding normal activities –their condition may have already progressed to a more severe stage.
Early osteoarthritis can look like:
Changes in general behaviour

Your dog might do their usual activities more slowly, or seem reluctant and look for assistance.

Your dog will still enjoy walking but may slow down or lag behind.

Jumping and climbing is more difficult, e.g. going up stairs or into the car. You may notice that your dog hesitates or is less sure-footed.

Your dog may sit or lie down more slowly or awkwardly, or hold their leg slightly out to the side.
As osteoarthritis progresses:
Changes in general behaviour

Your dog may avoid their normal activities, or look uncomfortable.

Your dog may refuse to walk, or may tolerate only short walks with plenty of rests. Limping and stiffness may become very obvious.

Your dog may refuse to jump or climb.

Your dog's movements will become less smooth and they may appear to 'drop' to floor.

How is canine osteoarthritis diagnosed?
Your vet may notice signs of OA in your dog during a routine consultation, or you might have asked your vet specifically about OA or changes in their mobility.
When diagnosing OA, your vet will ask you about changes in your dog's behaviour and mobility, to understand what's happening with your pet6.
They will perform a physical examination, feeling your dog's joints, and examine their range of movement. They will also watch your dog walk, sit down and stand up, to see how they are moving6.
Sometimes, your vet may ask to do further imaging, e.g. an X-ray, to look for any visible changes to the joint(s) affected and assess the extent of the condition. It can also help to monitor the progression of the disease over time.
How to help dogs with osteoarthritis
To help your dog, there are a range of physical and lifestyle changes that you can make at home, which are hugely beneficial in minimising pain, stiffness and further injury of OA.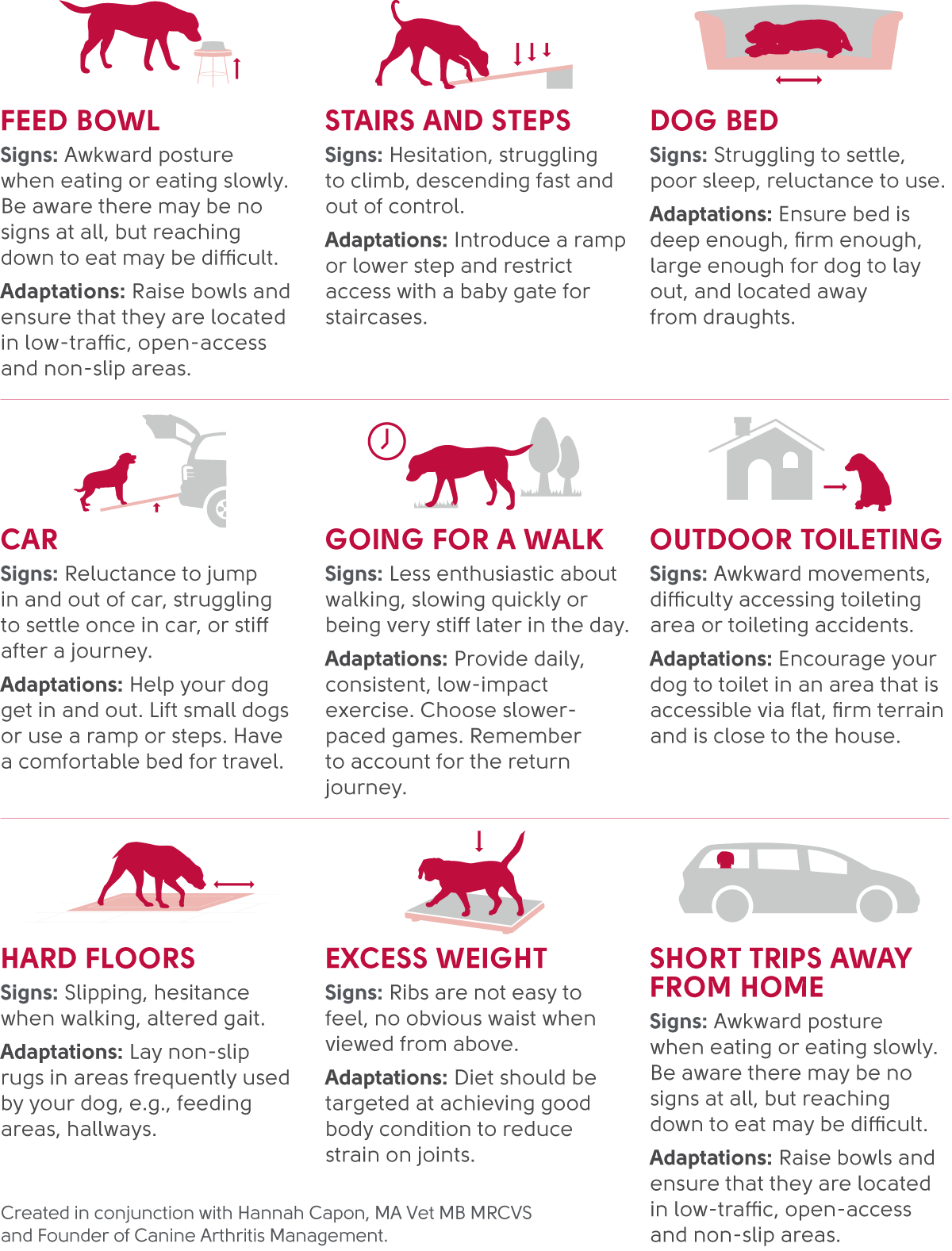 If you've noticed a change in your dog's behaviour or mobility:
Visit your vet for a consulation.

Ask your vet about possible treatment options as well as what you can do at home to help your dog's mobility.

Follow up as recommended by your vet.
Use our Vet Finder tool to
References:
Epstein ME. Today's Vet Pract. 2013;20-23
Bland S. Vet Sci Dev. 2015;5(2):84-89
Lascelles, D. Intl Assoc for Study of Pain 2016 Fact Sheet No. 9
Anderson KL, et al. Veterinary Science. 2020 Apr 28;7:220
Enomoto M, et al. Abstract and Poster. American College of Veterinary Surgeons Surgical Summit, 12–15 October 2022, Portland OR, USA. Available here
Cachon T, et al. Vet J. 2018;235:1–8.
Anderson KL, et al. Sci Rep. 2018;8:5641.