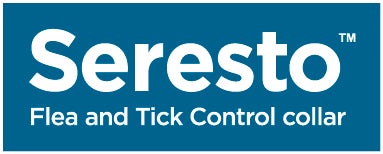 Blast off with the longest-lasting flea & tick protection available!
Say Goodbye to Monthly Flea & Tick Treatments
Life is busy. And monthly flea and tick treatments are just one more thing to remember.
But what if flea and tick treatment didn't have to be given monthly? Imagine the adventures you and your pet could take without the fear of a missed application...
Well, say 'Hello' to Seresto.
Seresto provides 7-8 months of clinically proven flea and tick treatment in just a single application for both cats and dogs. The longest lasting single application protection available, meaning you no longer need to remember monthly applications!
Did you know: Seresto lasts so long, it could provide enough cover to last an entire journey to MARS!
So whether you're planning an inter-galactic mission to Mars, a trek through the Brecon Beacons, or simply lazing on the sofa, why not see how Seresto could help protect your pet for longer!
A Collar Like No Other
Seresto is not just any ordinary collar!
Hidden inside Seresto is a unique polymer matrix - this clever little thing stores the active ingredients needed to protect your pet from fleas and ticks for 7-8 months!
Even cooler, that matrix is able to slowly distribute low controlled doses of the flea and tick fighting combo across your pet's skin and coat, all the way from the tip of their tail to each of their toes. As these naturally start to wear off your pets coat (e.g through hair and skin cells, as they shed) Seresto will top them back up. Cool eh?
This ensures long-lasting efficacy and eliminates the need for more frequent treatment
See how Seresto could benefit your pet below.
Blast Off to New Adventures with Seresto!

Seresto Flea and Tick Control collar
Only Seresto Flea and Tick Control collar is clinically proven to protect your pet against fleas and ticks for 7-8 months in a single application, and is available without a prescription.
Frequently Asked Questions
+Mehlhorn et al. Parasitol Res (2001) 87:198-207, information is regarding mode of action and is not intended to relate to speed of kill or to imply parasites can be completely stopped from biting.
** Correct as of 8th of April 2021 with 4.7/5 and 649 reviews for Seresto Flea and Tick Control collar for Large Dogs; 4.7/5 and 154 reviews for Seresto Flea and Tick Control collar for Small Dogs and 4.6/5 and 66 reviews for Seresto Flea and Tick Control collar for Cats. Some of the reviews on Influenster have been supported with free of charge trial product.