Lungworm could be the biggest threat to your dog's health you may have never heard of.
Different to intestinal worms, such as the tapeworm and roundworm, adult lungworm live in the heart and blood vessels of the lungs of dogs, which can be life threatening if left untreated.
Once rare in the UK, lungworm has spread to new areas, putting dogs of all breeds and ages at risk.
Discover the symptoms of lungworm in dogs so you can recognise it in your dog and take them to the vet immediately.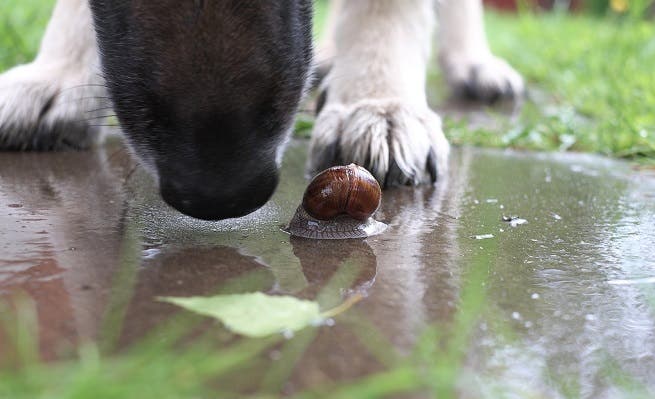 How do dogs get lungworm?
Known as Angiostrongylus vasorum, the lungworm parasite infects dogs (and foxes) when they eat infected slugs and snails – accidentally or deliberately – and ingest lungworm larvae. This can easily happen while rummaging through undergrowth, eating grass, drinking from puddles or outdoor water bowls, and playing with toys left outdoors.
Lungworm symptoms: How do I know if my dog has lungworm?
Unlike some other parasites that may cause your dog mild discomfort or illness, lungworm can prove fatal if the condition is not diagnosed and treated. But lungworm affects dogs differently. Often, dogs won't show signs in the early stages of the disease, some dogs will display mild signs and others severe. The earlier you spot and treat a lungworm infection, the more likely your dog will recover, so it's essential to know what to look out for.
Breathing difficulties
A persistent cough is one of the more common lungworm symptoms, triggered by the presence of worms in the dog's lungs. They may even lead pets to cough up blood. A cough like this should never be ignored or confused with more common respiratory infections, like kennel cough.
Low energy levels
A dog with lungworm is likely to tire easily, even after gentle exercise. Fatigue could be one of the first physical changes you notice – especially in young, usually lively dogs.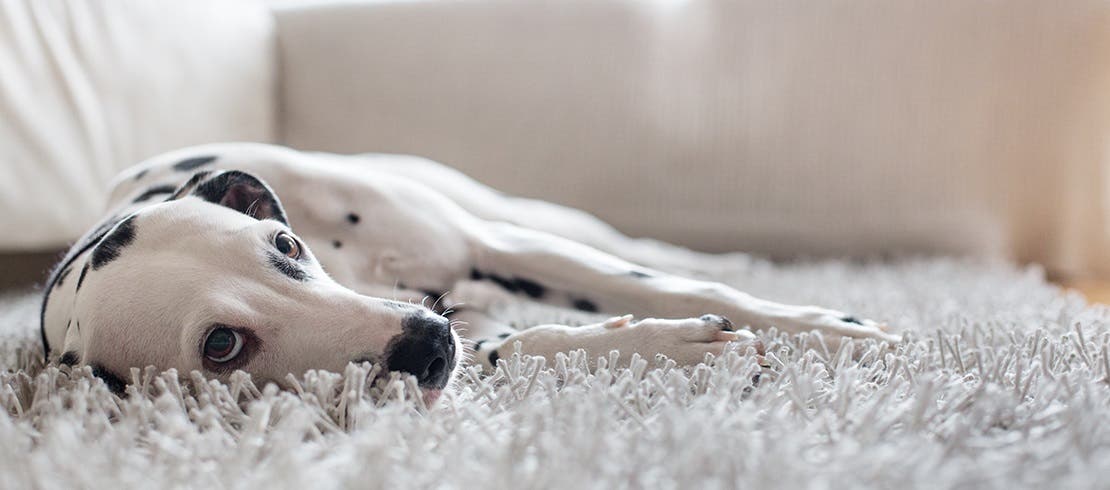 Poor blood clotting
If your dog bleeds persistently from a minor wound, it could be a sign they've contracted lungworm. Lungworm can lead to poor blood clotting, which can also make your dog more prone to nose bleeds, and can cause anaemia, which may make your dog's eyes and gums look paler than usual. Lungworm may also cause bleeding in the whites of the eyes.
Your dog may experience other problems with bleeding too, including:
bloody stools
passing blood when weeing
vomiting blood
Behavioural changes
Changes in behaviour can be hard to pin down but if your dog is noticeably lethargic or depressed, or suffers from seizures, you should always contact your vet immediately.
General sickness
Lungworm can be associated with vomiting and diarrhoea but this is not always the case. The problem is that these signs are also the symptoms of many other common or temporary health problems – including food allergies and tummy upsets.
If your dog has contracted lungworm, they may also have other non-specific signs such as weight loss or poor appetite. Lungworm can be present in your dog's body for months without any obvious symptoms, and the signs are easily confused with other illnesses, which makes diagnosis tricky.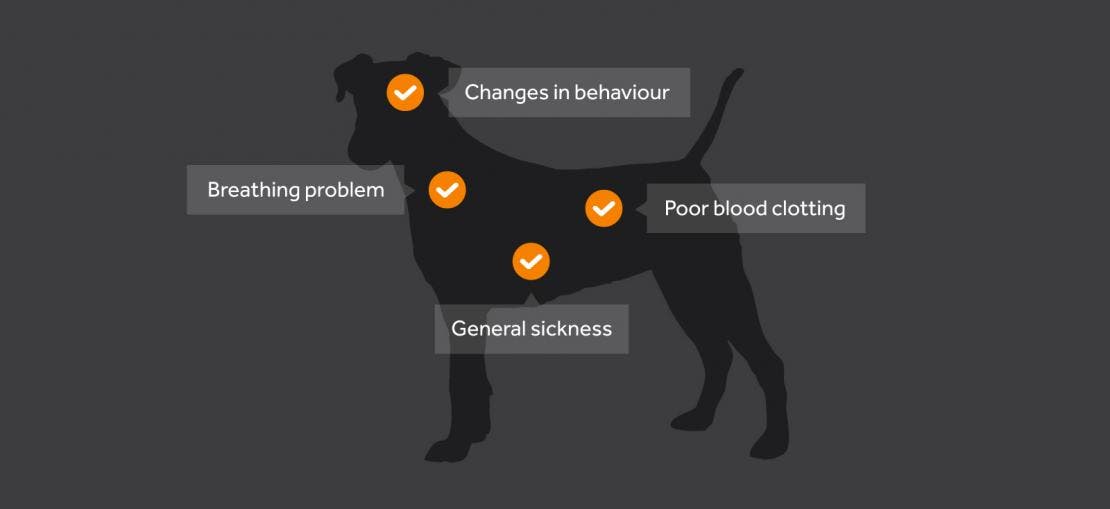 Diagnosing lungworm
If you spot any of the signs of lungworm, it's vital that you take your dog to a vet as soon as possible.
Your vet can test your dog for the disease by examining their faeces under a microscope for signs of eggs and larvae. They may also take blood tests, chest X-rays and carry out a bronchoscopy (a procedure which involves using a camera to look down your dog's windpipe) in case the parasitic worms aren't present in your dog's poop.
Once diagnosed, your vet can administer a lungworm treatment for dogs, which in many cases will result in a full recovery.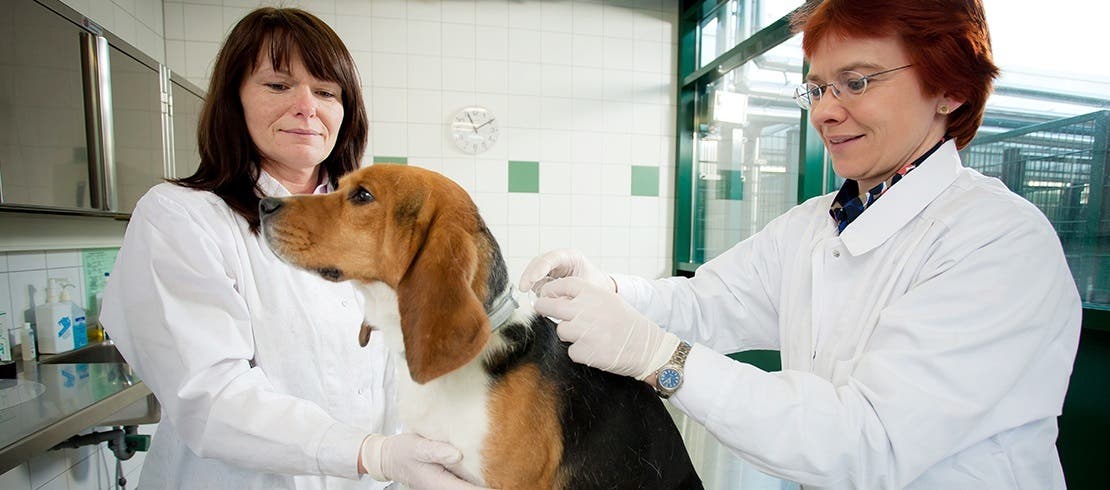 How can I prevent my dog from getting lungworm?
Check if you live in a high-risk area: Lungworm has been on the increase, and is now endemic throughout much of the UK, so it is also important to prevent your dog becoming infected with lungworm in the first place. You should take urgent action to protect your dog if you live in an area where lungworm has been reported or if your dog has a taste for slugs and snails. Use this online lungworm locator to check your local area.
Use a monthly lungworm preventative treatment: Speak to your vet before choosing a preventative treatment. Not all wormers are effective against lungworm and are not administered with enough frequency. For full protection, lungworm treatment needs to be monthly, unlike other worming treatments, which are usually given every three months. Dogs are naturally curious, so you might not know what they're sniffing when they venture off into the garden. Using a lungworm prevention product will give you peace of mind that your dog is protected from any hidden nasties.
Get in the habit to pick up your dog's poop: Always pick up and dispose of your dog's poop safely. Lungworm can be spread to other dogs through their faeces. Getting rid of their faeces will help to break the lungworm life-cycle and reduce the spread of the parasite.